Learn and Implement Inbound Marketing concepts for your business
Welcome to the Inbound Marketing Journey
This guide is designed to describe all major aspects of Inbound Marketing that focuses on helping, attracting and converting prospects into customers rather than pushing them to purchase a product/service.
Why Inbound Marketing?
In the present world scenario, an average person is looking for ways to block unsolicited sales emails, irrelvant ad commercials and phone calls. This is because customers are finding these promotional messages irrelevant and inappropriate. As a result, enterprises incorporating these mass marketing techniques are not seeing expected results. Moreover, customers are researching themselves online to find solutions to their problems, understand the product/service offerings and analyze them before making a purchase. This is exactly why enterprises are embracing the Inbound Marketing Approach. With this approach, enterprises plan to act as a constant guide for customers whenever they need a resource and an expert ready to answer their questions.
Make Inbound Marketing work for your business
Inbound solves customer's most pressing questions through content and creates trustworthiness among customers which help you generate more sales. To make Inbound marketing work for your business, you must think from the customer's point of view and create useful content that shall be easily discoverable to customers as and when required. You do not offer a sales pitch until the customer is ready. Rather, you drive them in their buying journey through lead nurturing and delivering right content at right time. It is a continous effort and involves a lot of team work and takes a diverse range of skills. This guide offers several templates and advanced strategies that help you in the application of Inbound methodology and let you reach your Inbound Marketing goals.
Inbound Marketing Fundamentals
The term Inbound Marketing is a buzzword for digital marketers looking to generate leads and convert them into customers. So, what exactly is Inbound Marketing?
What is Inbound Marketing?

Inbound marketing is a marketing approach designed to solve customer's problems through valuable content and to attract customers through personalized buying experiences, rather than spending resources chasing them.
HubSpot's Role in Inbound Marketing
Brian Halligan, the CEO & co-founder of HubSpot, coined the phrase "Inbound Marketing" in 2005 and has brought a huge change in the customer's experiences and marketing industry through HubSpot. Since the start of the company, HubSpot has been offering several free and paid inbound tools to help you achieve return on their marketing investments. Currently, HubSpot has a all-in-one marketing, sales, and service platform built to help you implement inbound and grow better. It's all powered by the same database, so everyone in your organization — Marketing, Sales, Services & IT — is working off the same system of record. Over the years, HubSpot's Inbound Marketing platform has become so popular that the words "Inbound Marketing" and "HubSpot" are synonymus on Internet.
Outbound Marketing vs Inbound Marketing
Outbound focuses on pushing often unwanted messages onto masses of people who aren't familiar with a product or service. Whereas, Inbound is completely customer focused, and concentrates on providing solutions to the problems that consumers have.
| Outbound Marketing | Inbound Marketing |
| --- | --- |
| Marketing centric approach | Customer centric approach |
| You push your message out to the masses hoping that somebody will respond. | You attract prospects through valuable content. |
| Marketer interrupts the customer | Marketer gets permission from customer |
| Outbound Marketing is more expensive. | Inbound Marketing is less expensive. |
| Produces Quick results | Results take time |
| Channels include: Email Spam, Cold Calling , Media Buys | Channels include: SEO, PPC, Content Marketing, Personalized Emails |
Benefits of Inbound Marketing
Inbound Marketing offers several benefits over Outbound Marketing. These include:
Inbound is more effective.
Inbound offers higher ROI.
Inbound is highly cost effective in comparison with Outbound.
Inbound offers valuable content to solve customer's problems.
Inbound offers experiences tailored to meet customer's needs and journey.
Inbound Methodology
Inbound methodology is the process of maintaining meaningful relationships with prospects and customers and growing your business with customers as your business promoters.
Inbound's Flywheel model is a circular process where customer is at the center of all the activities and feeds the growth of the business. It has three main stages. Attract, Engage and Delight.
Inbound Flywheel
In this stage, you use your expertise to create content and conversations that start meaningful relationships with the right people.
In the engage stage, you build lasting relationships with people by providing insights and solutions that solve buyer's problems.
In this stage, you provide an outstanding experience that adds real value and empowers people to reach their goals and become promoters of your company.
Inbound Marketing Strategy
What is Inbound Marketing Strategy?

Inbound Marketing strategy is a marketing roadmap designed with end customer in mind and relies on the concept of Inbound Methodology to meet your marketing and business goals.
Elements of Inbound Marketing Strategy
Below are the essential elements that form the foundation of your inbound marketing strategy:
Assess your current marketing situation
Understand your buyer persona and buying journey
Define your Inbound Marketing goals
Understand your target audience & their journey
Have a solid content strategy in place
The right promotional channels – Your marketing musts
Tie it all together with lead nurturing & automation
Measure success with analytics
Situational Analysis
As you begin to plan your Inbound Marketing Strategy, it is important to take a snapshot of your current marketing situation. A Situational Analysis is essentially a SWOT analysis that provides actionable advice for developing a superior Inbound Marketing program. Use comprehensive situational analysis to identify your pain points, learn how competitors are attracting customers, understand the performance of marketing channels – Organic, Paid & Earned, discover journeys customers are taking before purchase and learn how customers are interacting with your brand.
Ask questions such as:
Are we effectively tracking the ROI from each of our marketing campaigns?
Are we facing inefficiencies in scheduling and sending out emails?
Can the Marketing Qualified Leads (MQL) to Sales Qualified Leads (SQL) conversion rate be improved?
Are our sales people bombarded with too many of unqualified leads?
Do we blatantly market to our target audience with no customer dialogue?
Do we use valuable content to be at the forefront of customer's needs?
How is the performance of each of our promotional channels when compared to the Industry's benchmarks?
Where are we doing better? What are our current pain points that we want to resolve with Inbound Marketing?
What activities customers are doing before they purchase our product or service?
Example of SWOT Analysis
Strengths

Weaknesses

Offering expert advices and content through Webinar activities
Generating valuable written content
Search Engine Optimization
Inefficiency in scheduling and sending emails
Activeness in Social Media promotions
Lead Nurturing and Scoring
Strong Mass Email Marketing activities
Marketing team works in Silos
Low quality leads being passed on to Sales Reps

Opportunities

Threats

Increase the number of leads generated
Lack of conversion worthy content
Increase lead conversion rate
Chances of getting marked as spam for sending unsolicited emails
Improve the quality of leads generated
Generating valuable written content
Increase brand or product awareness
Loosing potential customers to competitors for not nurturing them
Scale Marketing activities with Automation
Better align marketing and sales teams
Set Inbound Marketing Goals
The direction of your Inbound Marketing strategy relies heavily on the goals set by you. Situational analysis, performed earlier, reveals many important details about the current marketing performance and helps you identify new Inbound Marketing goals. These goals must be attatinable and shall support your overarching business objectives.
You can define your goals using the SMART Framework to set effective marketing goals and accomplish them. SMART is an acronym that stands for:
Specific
Measurable
Attainable
Relevant
Time-bound
Examples of SMART Inbound Marketing goals are:
Produce an average monthly revenue of $1,20,000 (which is a 10% increase in revenue) from new customers, over the next 12 months from the Inbound Marketing program.
Use Inbound Marketing program to generate 15% new monthly revenue from existing customers through upsell and cross-sell activities.
Target 1st position over the next six months for 17 out of the 20 new content pieces that are related to my business and become a trusted advisor for our customers.
Increase the quality of MQLs generated by 40% over the next one year.
Increase landing page conversion rates by 0.8% over the next quarter to acheive 3 customers.
Buyer Personas
Have you ever seen Lamborghini airing Ad commercials on TV? No. Because Lamborghini's target audience – the upper-class car enthusiasts don't sit around watching TV. Lamborghini reaches the target audience through Live Shows at Motor shows, sponsorships for Racing events and Business Magazine Ads. To do Marketing effectively, you need to have a deep understanding of your customers. Buyer Personas are a semi-fictional representation of your customers that help you understand your customers better and effectively plan your key messaging and inbound marketing activities.
Unlike Honda/Toyota, Lamborghini does not spend on TV commercials because its audience is not sitting around watching TV.
Each business solution is unique. So are its buyer personas. To create well-developed personas, you need to research on customer's goals, interests, motivations, demographics, income levels and buying journey. This list is not comprehensive by any means but it shows the standard elements of a buyer persona. Main sources of developing buyer personas include: monitoring digital conversations, uncovering trends from your contact database, getting feedback from existing customers, capturing important information from site forms and Identifying insights from Site Analytics data.
Real Life Buyer Personas
Here is a buyer persona created for one of our clients.
Persona Name: Technology Tom

Age: 45+

Location: Male

Job Title: Vice President – Technology, IT Director, CIO

Job Responsibilities

Leading business units that drive innovative and strategic thinking for the company, such as enterprise architecture, innovation management and R&D.
Holding the decision-making authority for innovation-driven technology investments.
Ensuring internal and external systems are safe and secure as well as running and performing as they should, by actively monitoring and responding to incidents that might affect highly available and performant systems.
Assisting in developing the vision and roadmap to execute current and future company goals and objectives to provide the best technology.
Be up to date with the news about ERP they use and learn/implement third party integrations that can help achieve employee productivity.

Goals

Creating a vision of what is possible in leveraging technology
Aligning technology with business strategies
Identifying & Adopting new solutions
Modernizing legacy applications

Current Barriers and Challenges

Partner reliability
Timely project delivery: IT projects are very bad at timeliness
Budgetary constraints
Looking for competent technology people based on the installed base
Looking for partners that can help offer the entire stack of technology install base

Regularly visited websites: CIO.com, IDC, Forrester

Social media: Twitter and LinkedIn
Buyer's Journey
In the digital era, buyers research online before making a purchase. They research about their problems, explore solutions and choose the best one that suits their needs and requirements. This buying process that customers take is called Buyer's Journey.
Buyer's Journey helps you personalize your marketing and sales activities to the buyer's context and offer seamless buying experiences. In general, customer's path to purchase is fragmented by many micro-experiences. You need to guide your potential customers, glue all their experiences together and help them move ahead in their buying journey. With an understanding of your Buyer's journey and marketing analytics data, you can keep customers engaged through relevant and personalized content for each stage of buying journeys and persuade the buyer that your company is best suited to handle their issue.
Buyer's Journey typically consists of three stages:
Buyers Journey
Awareness Stage: In this stage, Customers have a problem and are interested in knowing more about their problem.
Consideration Stage: Customers have a defined problem and are exploring for solutions to solve it.
Decision Stage: Customers compares the solutions and chooses a solution in this stage.
Buyer's Journey vs Sales Funnel
Buyer's Journey and Sales Funnel are two different terms but describe the same process. The term Buyer's Journey is mainly viewed from the Buyer's point of view. Whereas, Sales Funnel is viewed from the Company's point of view.
Examples of Buyer's Journey
B2B Inbound Buying Journey Example
source:lucidchart.com
B2C Inbound Buying Journey Example
source:lucidchart.com
Content Strategy
Content plays a crucial role in Inbound Marketing activities. It is  the most important asset that you use to reach your Inbound marketing goals. Focus on creating content that serves these goals rather than re-producing the same heavily templatized content available on internet. Having a content strategy in place helps you move in the right path and assists you in planning and creating content focused towards achieving your Inbound Marketing goals.
Importance of Content Strategy
Not all content is built to impress. Some content is designed mainly to get discoverable on the first page of search engine results. If you focus only on getting discoverable on the Internet, your content does not serve the purpose. Your content has to be contextual, unique and discoverable. A Content Strategy aids you in creating a roadmap for your content, planning and delivering content that attracts your buyer personas through every stage of buyer's journey. The clearer and more planned your content activities are, the more the consistency in your Inbound approach and the better the chance of achieving ROI from content activities.
Steps to craft your Content Strategy
Perform a Content Audit
If you already have published content for a while, perform a content audit to understand how optimized your content is for your end user and how it is impacting your audience. It provides you insights on the performance of content topics, content types and marketing channels that are converting visitors. Additionally, It throws you light on improving your underperforming content and planning your future content creation. Here is an Content Audit template that you can use.
Download Content Audit Template
Brainstorm Content Ideas
A successful content marketing campaign rests upon producing useful content that people want to link to, share with, or engage with. To produce that content, you need to consistently come up with strong content ideas. It is a challenging task and requires creative juices flowing. Integrating Brainstorming as a part of your content planning reduces stress, promotes innovative thinking and brings the best ideas forth.
Here are some ways you can use to brainstorm content ideas and identify topics that matter:
Keyword Research
Buyer Persona Challenges
Buyer Persona Challenges
Industry News
Social Media Listening
Evaluate those Ideas
In the brainstorming step, you focus on coming up with as many ideas as possible. You cannot build trust and credibility if you offer cheap content that's already available online. Evaluate the content ideas to include only those topics that are relevant and engaging.
Writing with a purpose
With a plethora of blogs for every topic imaginable on internet, nobody has time to read everything. Because our time is valuable, we prioritize with content what brings us the greatest value. In the same way, when we write content, we should ask ourselves: Am I adding value for my audience? Am I teaching them something new that they would find only from me? Providing such value is what thought leadership is all about. Be genuine in your content efforts. If you merely want the person's business and push marketing messages, you will be unsuccessful. Offer them value to get their business.
To create purposeful content, consider answering these questions for each piece of content:
What is the purpose for writing this content piece? What challenges are we solving with this content piece?
How does this content fit in with my overall content strategy?
What are the 3-5 points I want to communicate to my audience with this content?
Where in the lead generation funnel does this content fit?
What unique information does the target market get only from me?
Content Compass
Now that you have finalized your content topics, it is necessary to organize them through Content Compass. Content Compass is a breathing document that is useful for planning together the Inbound Marketing Campaigns, its goals, themes and the promotional channels through which you share your content. It organizes the direction of content and priorities by theme and connects it to a specific month, which descends down the sheet. A content Compass must have two attributes.
It has to be in real time.
Can be managed by multiple contributors.
Download Content Compass Sheet
Content Creation Best Practices
Once you identify the content opportunities, do not forget to link them to your Personas and Buyer's Journey.
Focus on the value your content is adding to the end user as well as page experience.
Always use a mix of Gated and Ungated content so you can be discoverable on Internet and still generate leads.
You do not always need to work on new topics. You can repurpose existing content pieces by adding latest quality information to it.
Content does not just have to be in the form of articles. Content can take the form of Infographics, Interactive calculators, Images, Worksheets, Podcasts, Comparison Matrix, Videos etc.
When you are creating long form content such as Whitepapers and How To Guides, you can publish a few parts of these documents as articles and link them to the respective landing pages for complete information.
The Right Promotional Channels – Your Marketing Musts
Even well-planned content means little if it's not provided to the right buyer on the right channel. Customers use multiple channels to consume content and you have to be right there to attract them. Most common promotional channels are:
Be easily discoverable through SEO
The most effective way to attract customers to your website is through optimizing your content for search engines. SEO lets you be discoverable on search engines for the keywords that your customers are typing in for. SEO results take time and optimizing your website for SEO requires diligence and continued care. Your visitors' interests and convenience should be your first priority in designing your content. Make sure you add primary keywords into the content of your site, including them in the titles and page headings. Search engine algorithms will use these keywords to relate your website to search terms and assign your site a higher ranking on SERPs.
However, Content that's well optimized for search engines doesn't merely contain strong keywords. Links, both internal and external ones, can boost your website's visibility and improve its ranking. Be sure to develop relationships with other websites.
Social Media
Many of your customers or potential customers are likely on some social network site. Because of this, it's important to make your business a prominent figure on those sites. Figure out what social media sites your customers frequent, and add them to your profiles. If you don't do this, you may miss out on gaining new customers and creating a relationship with them.
Each social networking site works differently, so it is important that your strategy will work with the site you pick. For instance, on Facebook you can create a poll, unlike most sites. Find out where your customers are getting their social fix. You can leave yourself twisting in the wind if you start a social media campaign that reaches none of your target audience. You need to know if your customer base will be reading blogs, are tweeters or perhaps, they Facebook often. Research is the key to maximizing your efforts.
Use a variety of media to stimulate your potential customers when social media marketing. Regardless of if you're writing a tweet, coming up with a title for a blog post, or coming up with a post to add on Facebook, you should create interesting titles that your readers will want to see. With headlines and titles that stand out, they can be powerful tools which draw in people and make them want to know who you are and eventually will lead them to your site. Having pictures, video, and games can increase the appeal of your page a great deal to those who make their way to it.
Offer incentives to people who share your page with others. Doing so can lead to hundreds or even thousands of people being sent invitations to your page. This can be done through coupons, free samples or whatever else you may think of. It will make your customer happy to spread the word about your business for you!
Email Marketing
Emails containing marketing email have been sent for as long as the Internet has been online. The latest spam programs and filters can be a challenge to any email campaign, but the correct strategies can be of value to both you and your customer.
Consider using a template that allows for each recipient to receive a personalized message in the greeting. People respond more favorably to emails that address them personally, and are less likely to reject the message. This personalization is simple to accomplish, and will grow a greater relationship with your customers.
Make sure that you get permission from customers or potential customers before sending out your emails. If people do not want to get emails from you, they could mark your emails as spam or even ignore you altogether. There is even a chance that your email service could take you out of their system.
If you run out of ideas for your email marketing campaign, try allowing your customers to assist you. Do things like write down questions that you receive from customers. Then when you go to send the next email, you have a topic. Make sure to include the customer's name for credit too.
When done right, a reader does not even realize that your email marketing messages are, in fact, marketing at all. People will enjoy reading your message if the content you provide is valuable or provides a needed service. This not only aids your company, but expands your customer base.
In our experience of sending more than 5 million emails, we observed that 9-10AM ET Monday/Tuesday/Thursday is a good time to reach decision makers in the B2B SaaS Industry. There's no specific difference in open rates for specific days of the week for B2C email sends.
See: 101 Actionable Email Marketing Tips That Boost Results
Businesses using email marketing must be compliant with CAN-SPAM Act and General Data Protection Regulations (GDPR).
The main requirements of CAN SPAM Act are:
Don't use false or misleading header information.
Don't use deceptive subject lines.
Identify the message as an ad.
Tell recipients where you're located.
Tell recipients how to opt out of receiving future email from you.
Honor opt-out requests promptly.
Monitor what others are doing on your behalf.
Lead Nurturing and Marketing Automation Tie It All Together
Not all the inquiries generated for your company's products/services convert into sales right away. These inquirers do buy but at a later time. Most of these inquirers are in various stages of the buying journey looking for solutions and are not ready for a sales pitch. If these inquiries are simply passed on to salespeople for follow-up, you may be losing as many as 8 out of 10 prospects to your competitors. The best practice is to drive them in their buying journey with valuable insights and content, all within the realm of your expertise, through lead nurturing activities to gain their trust, make them perceive that you are an expert in the field and attract them towards you.
What is Lead Nurturing?

Lead nurturing is the process of maintaining meaningful dialogs at the right time and building relationships with your contacts with the goal of earning their business.
Typically, a lead-nurturing program includes meaningful letters, timely emails, articles, events, white papers and Webcasts. These may take the following forms:
Assessment checks
Pricing calculators
Strategy templates
Checklists
Webinars & tradeshow events
Case studies
Research reports
Guides & whitepapers
Blogs
Solution brochures and data sheets
Infographics
But, how do you deliver the right content at the right time? how do you motivate people to act? how do you target a specific set of audience? You need to implement Marketing Automation tools to track your lead's website interactions and trigger your messages in a timely, efficient and targeted approach to connecting with your contacts. Marketing Automation tools help you automate marketing activities so you can increase marketing efficiency, build meaningful relations with contacts and grow revenue faster. Common Marketing Automation Platform (MAP) features include:
Email marketing
Automation workflows
Content Management
Search Engine Optimization (SEO)
Lead capturing tools
Social media management
Campaign Tracker
Live chat & Chatbot features
Lead Scoring
Lead Management (CRM)
Marketing Analytics
Inbound Marketing is a Strategy, not a technology. As Marketo mentions, Inbound Marketing requires Marketing Automation technology to reach goals.
With advanced All-in-One Marketing Automation Platforms such as HubSpot, Marketo and Eloqua, you can effectively track leads, run lead nurturing campaigns, progressively profile contact information, and automatically trigger events to happen after your contacts have taken certain actions on the website, such as downloading a piece of content, opening a specific page, or requesting information from you.
Top Marketing Automation Tools:
HubSpot

Marketo

Oracle Eloqua
Lead Nurturing Examples
At dJolt, we have seen marketers of several B2B clients passing new leads directly to the sales team without qualifying and nurturing them. Sales teams pushed their value proposition in every email and social message sent to the leads, and the result is the low conversions and waste of sales team's time in chasing these unqualified leads.
As an Inbound marketing consulting partner, we transformed their direct reach out activities with lead nurturing activities that helped companies achieve more brand recalls and optimize the lead to customer conversion rates. Here are some examples of lead nurturing activities: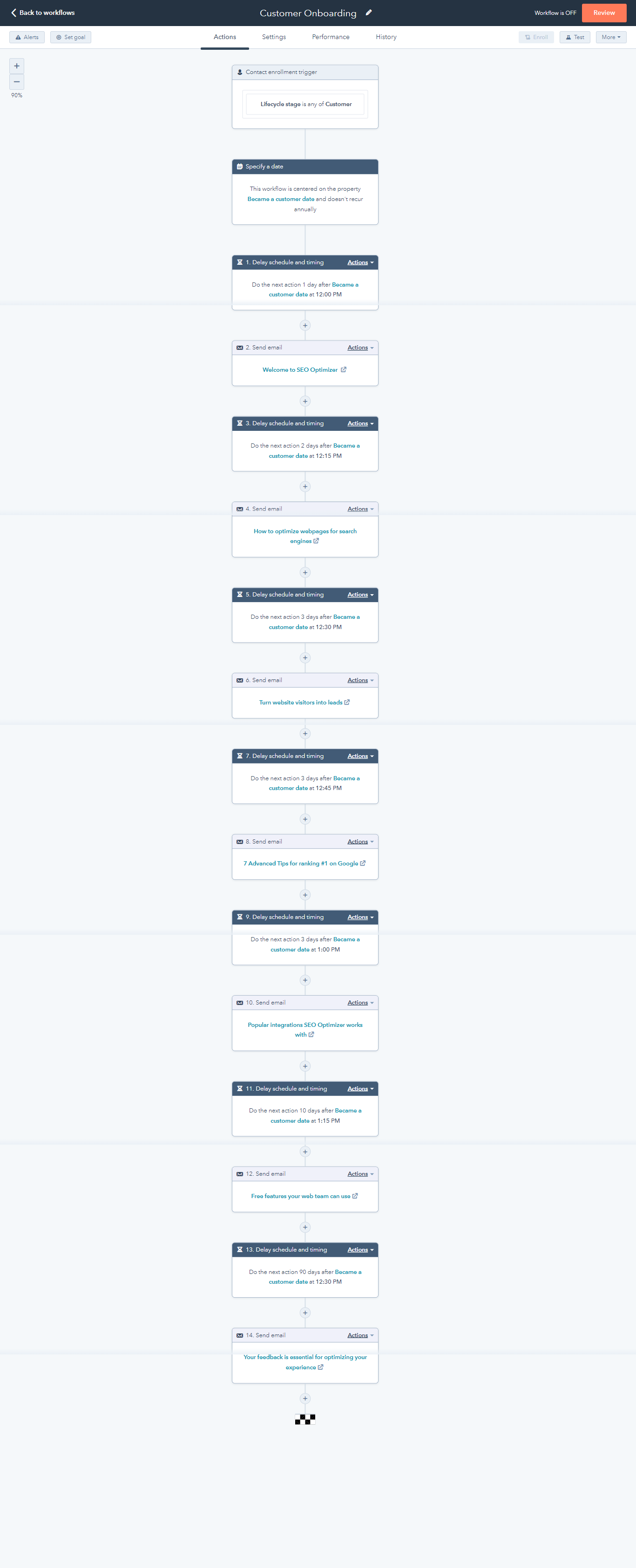 Topic based workflows
Have you ever received a series of emails related to a particular topic after showing your interest on a web page by submitting a form? You must have. These are topic based workflows that trigger when a contact visits a page or shows interest in a topic. Topic based workflows are mainly used to warmup the leads, instill brand and educate potential customers about a particular topic.
Here is an example.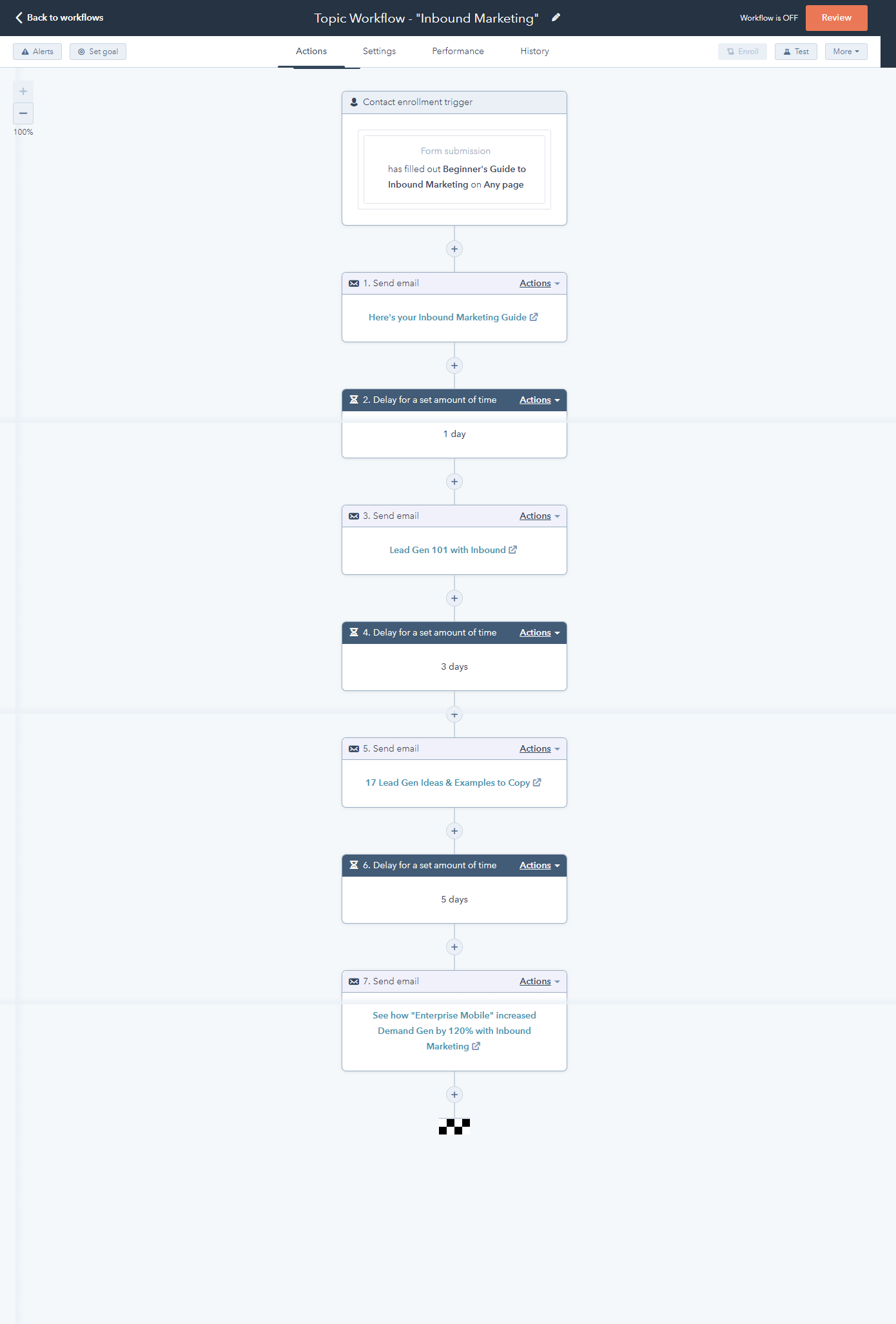 Action based workflows
With HubSpot tag installed on your website, you can track everything that your contact does on the website. Further, with emails sent via HubSpot, you get to track the email opens and clicks. You can use all this information as enrollment triggers and send personalize nurturing according to their behaviors and engagements.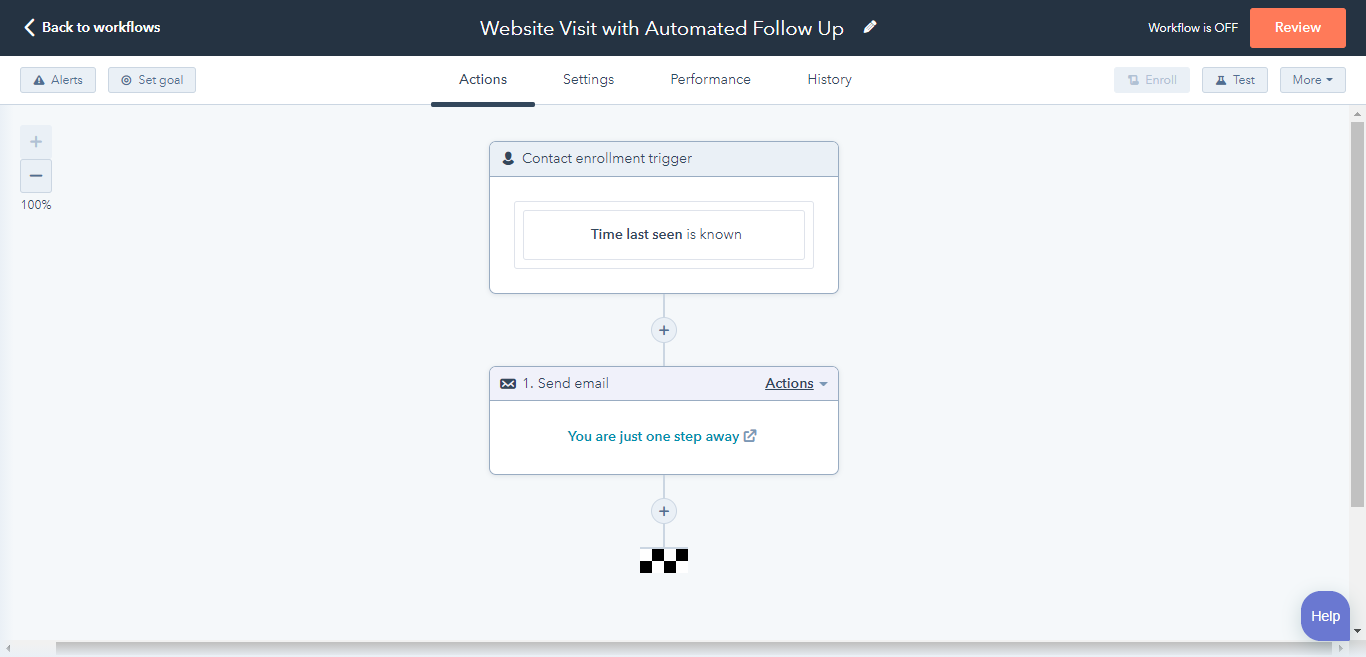 Measure and Optimize Inbound Marketing Performance with Analytics
Analytics is essential to gain insights into the performance of your Inbound Marketing activities and takes the guesswork out of what to do next. If you don't measure the performance of your marketing campaign, you don't know how the Inbound Marketing program is performing, which areas to improve and whether you are reaching your Inbound goals.
So, are there any essential Inbound Marketing metrics that you should be tracking in your Inbound Marketing efforts?
We hear this question from many of our customers and marketers that we work with. Analytics offers a wealth of data. Most of the marketers are overwhelmed by trying to track several combinations of reports and metrics. This section highlights the important metrics you must track as an Inbound Marketer for taking better data driven decisions and reaching Inbound goals.
Implementing the Inbound Marketing Strategy is part of the story, but not all of it: Continually analyze the metrics, so you can optimize and reach your Inbound goals.
Inbound Marketing Metrics for Social Media Marketing
Social audience growth & reach
Social media engagement

Post likes on LinkedIn, Facebook, Twitter, Instagram etc.
Shares, comments and Retweets on social networks
Video views and the length of videos viewed

Conversions from social media
Inbound Marketing Metrics for Email Marketing
Email Open Rates
Email Click Rates
Bounce Rate
Unsubscription Rate
List Growth Rate
Conversion Rate
Revenue Per Email Send
Inbound Marketing Metrics for Lead Nurturing & Marketing Automation
Segmentation Intelligence
Time to Customer Conversion
MQL to SQL conversion Rate
SQL to customer conversion Rate
Average time to convert leads
Cost per Lead
Inbound Marketing Metrics for SEO
Keyword performance & rankings
Share of Organic traffic as a percentage of total
Organic traffic growth rate
Branded vs Non-branded visibility
Backlink growth
Conversion rates from organic search
Inbound Marketing Metrics for Content
Traffic referral source
Post views and comments
Visitor-to-Lead Conversion Rate & growth
CTA performance
Inbound Marketing Metrics for PPC Ads
Average CPC
Click Through Rate
Conversion Rate
Cost-Per-Acquisition
Return on Ad Spend (ROAS)
Inbound Marketing Metrics for Website
Share of unique visitors & returning visitors
Unique visitor growth rate
Percentage share of web traffic sources
Trending web pages
Landing page conversion rates
Bounce rate
Average time spent on website
Before you launch your Inbound program, it is essential to put in place a clear strategy that will help you make informed decisions about your foray into the Inbound Marketing space add ensure that you are focused on the right Inbound marketing elements relevant to your business. It is an important step towards creating business relationships with your customers and prospects and growing your revenue.